Our Company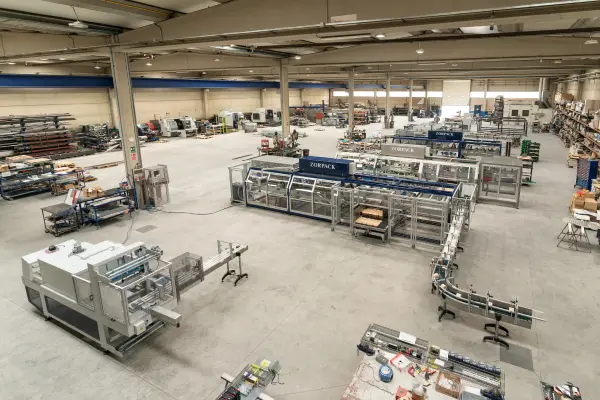 Zorpack with almost four decades of experience. We are currently the leading Spanish company in the packaging sector. We manufacture custom-made machinery at our facilities. We have a cutting, machining, paint finishing, assembly, start-up and machinery loading zone. We have a mechanical and electrical design and R+D development office and a commercial, purchasing and financial office in our office area.
leading Spanish company in the sector
---
History
José Antonio Ortega and Antonio Záforas were the founding fathers of ZORPACK, which was established in 1983.
The company faced newer and newer challenges as it started to build Shrink wrappers-tunnel machines with welding systems. It progressed onto the manufacturing of Lines with Bundling Machines that bundled products on trays/cardboard sheets, Stacking Machines and Tray Forming Machines. The company was consolidated by the dawn of the 80s as a leading company in the Spanish packaging sector.
During the 90s, we faced the challenge of building a full weldless packaging line with a Shrink Bundling system, capable of doubling the production rate of conventional machines. This achievement expanded our market options and allowed us to sell our products to multinational companies with vast production lines.
We have successfully developed R+D projects that have allowed us to expand into sectors that were unknown to us until now.
Medium and high-production Wrap Around Packers, Packers for the fruit and vegetable produce sector, Bundling machines that bundle products on full and half pallets, Bundling machines with staggered arrangement.
The company is currently based in Esquiroz (Navarra), in an industrial building with a 4,000m² surface area and a very high production capacity. In addition, we have a warehouse for used machinery with a surface area of 2,000m².
The quality of our products, together with the wide range of machinery adapted to the existing market needs throughout the past 29 years, as well as the large number of sectors in which we operate have positioned us as a cutting-edge company with global outreach.
The INTERNATIONALISATION of the company in the last few years has allowed us to increase our presence in many more countries, expanding into new markets, increasing sales and expanding the presence of ZORPACK throughout the rest of the world.

---
Installations
---
Why choose Zorpack
· Leading company in the Spanish Packaging Sector, with over 30 years of experience.
· Exemplary After-sales Service, our best argument.
· We use commercial brands to build our machines; the customer can purchase spare parts for our machines from their retail distributors, with no need to purchase them from Zorpack.
· We manufacture custom-made machines; each machine is designed and built according to the needs of each customer.
· Our machines are fully built at our facilities: we have a cutting, machining, paint finishing, start-up and machinery loading zone.
· Facilities with financial, commercial, purchasing, mechanical design, electrical design and R+D development offices.
· Presence of our machinery range in all food sectors.
· R+D Projects are developed every two years, putting us at the forefront of the sector in global terms.
· We work with major Spanish multinational firms, offering real solutions to our clients: Problem = Solution.
· We adapt to the new market trends.